CM-A40i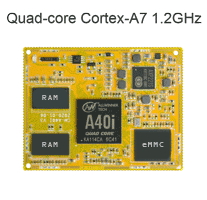 * Processor: Allwinner A40i Quad-core ARM Cortex-A7 MPCore Processor @1.2 GHz
* RAM: 512MB/1GB/2GB DDR3/DDR3L
* Storage: 8/16/32GB
* Pin out: USB Host, USB OTG, SATA, SPI, SDMMC, MIPI_TX, UART, TV-IN, I2S, LVDS, Ethernet, HDMI, ADC in, GPIO, PWM, I2C, etc.
* Operating system: Linux3.10,Android7.1.1
* Board size: 58mm x 45mm
* Package: 196-pin, 1.0mm pitch
The CM-A40i is a system on module powered by the Allwinner's A40i processor, facilitating faster processing time and better image resolution.
This quad core SOM is specifically designed for applications such as Robotics and Industrial Automation that require 3D graphics, advanced video processing, rich user interfaces, high quality, low power consumption and a high level of system integration.
CMA40i can be displayed on either 4-lane MIPI DSI displays, an RGB panel or a Dual-channel LVDS panel. CVBS-out and HDMI V1.4 is also supported. Dual CMOS sensor parallel interfaces and 4-channel CVBS-in, which is capable of executing multi-channel video recording. Integrated audio codec with 24bit/192KHz DAC playback, and supports I2S/PCM interface for connecting to an external audio codec. I2S/PCM interface includes eight channels of TDM with sampling precision up to 32bit/192KHz.
A40i meets the standard of industrial grade, and the operating temperature reaches the standard of AEC-Q100 grade3.