MINI4418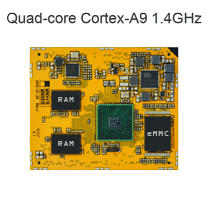 * Processor: Samsung S5P4418, Cortex-A9 Quad-Core, 1.4GHz
* RAM: 512MB/1GB DDR3
* Storage: 4/8/16/32GB eMMC
* Pin out: 5x UART, 1x USB2.0 Host, 1x USB HSIC Host, 1x USB2.0 OTG, LCD(TFT/LVDS/MIPI), Gigabit Ethernet, I2S, CIF, HDMI, GPIO, ADC, PWM, I2C, Audio, SPI, HSMMC/SD, etc.
* Operating system: Android4.4.2
* Board size: 70mm x 58mm
* Connectors: 1.27mm pitch, 2x50pins Female Pin Header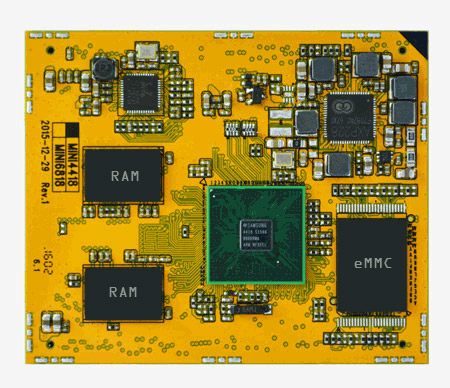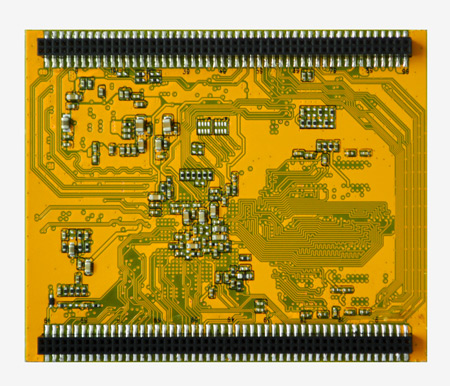 The MINI4418 is a 70 x 58mm Compact computer-on-module Boardcon released that runs Android on EM3288 Development board. The module has the same size, pin expansion and power as the MINI3288.
The MINI4418 clocks its four Cortex-A9 cores to 1.4GHz and ships with 1GB of DDR3 RAM and 4GB eMMC flash. The module has an RTL8211E GbE (Gigabit Ethernet) controller. It can enable carrier boards with three USB 2.0 host ports, 1x USB2.0 OTG port, a single COM port, and LCD (TFT/LVDS/MIPI) interfaces. Other features include I2S, CIF, HDMI, GPIO, ADC, PWM, I2C, Audio, SPI and HSMMC/SD.
With the customized carrier board, MINI4418 can provide cost - effective of embedded solutions for the automotive, medical, telecommunications, consumer electronics, and other industries.
Features Exynos 4412 VS S5P4418
Processor model
Exynos 4412
S5P4418
Marketing time
2012
2014
Process
32 nm
28 nm
Speed
1.4 GHz
1.4 GHz
CPU
ARM Cortex-A9 Quad-Core
ARM Cortex-A9 Quad-Core
Arm core series
Cortex-A9 quad-core
Cortex-A9 quad-core
Cache
I/D 32KB*4 L1 cache, 1MB L2 cache
I/D 32KB*4 L1 cache, 1MB L2 cache
Memory
Dual-channel DDR3
Single-channel DDR3
EMMC
4GB(Default)/8GB/16GB EMMC
4GB/8GB(Default)/16GB EMMC
Multi-media decode
H.263, H.264, MPEG2, MPEG4, VC1
H.263, H.264, MPEG1, MPEG2, MPEG4, VC1, VP8, Theora, AVS, RV8/9/10, MJPEG
Multi-media codec
H.263, H.264, MPEG4
H.263, H.264, MPEG4, MJPEG
UART
4
6
Display interface
RGB, MIPI
RGB, MIPI, LVDS
Max resolution
1920*1200
2048*1280
GPIO voltage
1.8V
3.3V
I/O
Some I/O built-in interrupt
All I/O built-in interrupt
Ethernet
Through bus address extension
Integrate gigabit Ethernet controller. Less hardware cost
ADC
4 channel 12 bit 0~1.8V
8 channel 12 bit 0~1.8V
USB Interface
1 channel HSIC,1 channel OTG
1 channel HSIC, 1 channel HSIC, 1 channel OTG
Chip unique ID
No
128BIT unique ID
GPS
Support
Not Support
C2C Interface
Support(For cell phones)
Not Support
Slim bus
Support
Not Support
ISP
Support
Not Support