Custom Design Services
If our existing SBCs, options and peripherals don't quite meet your design needs, tell us. We can modify existing products or design a completely custom embedded computer (Only dedicated on ARM) or peripheral board. Because our engineers design only embedded systems, we can reduce the risk associated with your embedded project and decrease your time to market.
Our engineers are experienced in assisting customers with both embedded hardware and embedded software design. We have assisted customers with the development of solutions for consumers electronics, manufacturing process control, traffic management, printing system management, communication infrastructure, website hosting, data gathering and laboratory test equipment.
We can provide the embedded hardware and software you need to meet your embedded project requirements. When the addition of your feature can economically be included in one of our existing SBCs, we will modify the board for a semi-custom solution. When needed, we will develop a new embedded SBC or peripheral board to meet your requirements. Depending on the design agreement, you might maintain sole ownership of the final product, or we might add the product to our product line.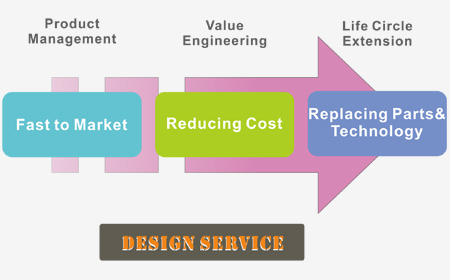 How to choose design service
Boardcon is deeply understand that different clients have different requirements. So we create "Out Recourse Design Package" and "BSP Function Combination", both of them contains 90% requirements of clients. Customer according to the actual resources and product features to choose the most suitable service. We wish through this kind of service style, every penny of clients can get efficient return.
Out-Resource Design Scan
Item
Custom
Core board
Custom industrial control panels
Product-level program development
ODM
ARM OEM
Service Provided
Based on the customer's requirements we design processor card inosculating with the present main board to realize the product's functions. Verification at first time.
Define product and specification according to client's project, implement system definition, schematic entry, hardware, software design and functions verification.
Provide mass-production solution including functions verification, model marching, pp and mass-production supervising
Who hopes join in the mass-production stage immediately, at the same time our board can meet their requirements. The Boardcon provide ODM services to meet customers' needs. The OMD is based on present board, develop and produce PCBA.
Customers can make the product functional requirements, so that the boardcon and R & D and production; We can also OEM for your well-designed products. Please provide us your schematic, BOM and Gerber files.
Delivered Contents
Processor Card, schematic, source code.
Prototype machine, schematic, PCB, source code.
Model Machine, Gerber files, objective codes.
PCBA, Objective code.
PCBA
Client Requirement
The client strong platform and application development experience
The client with relatively strong platform and application development experience
The client almost with no experience on platform

The client who hopes join in the mass-production stage immediately, at the same time our board can meet their requirements

Who have the ability to develop software and hardware
Benefit
Help clients with verifying product's functions in the shortest time
Reduce the client project's risk, decrease time to market. At the same time the client could use the resource we provided to upgrade
Fasten mass-production process and overcome all of obstacles together
Buy our PCBA directly
Customer can get 100% end product. Improve product quality, focus on market and product planning
Schedule
1-3 weeks.
Subject to the actual situation
4-8 weeks.
Subject to the actual situation
8-24 weeks.
Subject to the actual situation
4-12 weeks.
Subject to the actual situation
1-3 weeks.
Subject to the actual situation
Design service process
The ARM processors we use are ideal for embedded systems that require low cost, low power, low instruction-set complexity, and high processing performance. Since our design techniques focus on overall ruggedness and reliability, our experience with the ARM architecture has allowed us to create the ideal line of ARM single board computers for hostile environments and demanding applications.
Custom Hardware
* System Design
* Specification
* Schematic entry
* Board designs, Customer-Specific Board and Processor Kernel Designs, Interconnection/Periphery Design on Custom carrier board
Standard Peripherals
* PCB layout
* Realization of a low production price
* Fast prototyping
* Function and system test ,validation
* Transfer to mass production
* Technical Support

When selecting a hardware platform for any embedded system project, it is essential to evaluate the software support provided. Platforms which offer full software support speed up time to market by enabling full focus on the customer's application.
Custom Software
* Implementation of protocol stack
* Real-time, Multi-tasking software systems
* Operating Systems UC-OS/II, ucLinux, Embedded Linux or Windows CE to different targets
* Application Code Development
* Board support packages and device drivers like
- TCP/IPWiFi/Bluetooth/RFID/GPS/GPRS drivers
- Serial communication/USB/Can drivers
- LCD and Touch Screen drivers
- SMC/MMC/SD card interface drivers and flash file systems
- IDE hard disk interface drivers
* boot start codes
* Installation, Start-up, Test, Validation
* Software Maintenance
* Technical Support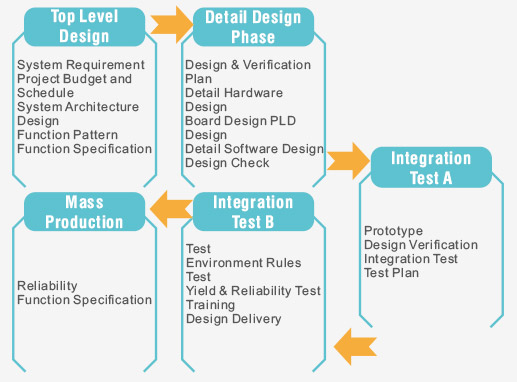 Project management
Boardcon is providing high-quality development and production of OEM-able Single Board Computer (SBCs) and ODM service that help customer accelerate microcontroller-based embedded developments. Our products are through strict test and volume production conforms to (UL, CE, EMC, ROHS, etc.) .