Boardcon announced a Quad-core module based on Samsung S5P4418
Author: Boardcon Embedde Design   Date: 2016-06-03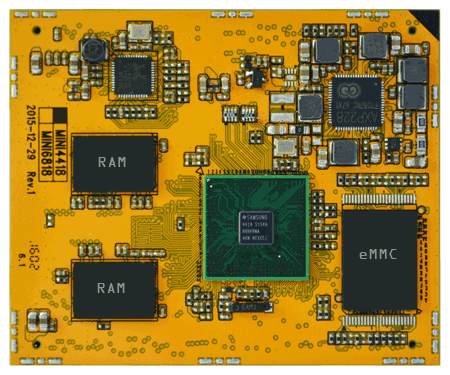 Boardcon Embedded Design, an Original Design Manufacturer dedicated to providing high quality ARM core based industrial Computer-on-Module, Single Board Computer and Evaluation board announced the launch of its first Computer-on-Module based on Samsung S5P4418 processor.
The MINI4418 is the third Computer-on-Module Boardcon has released that runs Android on EM3288 Development board.
MINI4418 specifications:
* Processor: Samsung S5P4418, Cortex-A9 Quad-Core, 1.4GHz
* RAM: 1GB DDR3
* NAND Flash: 4GB eMMC
* Pin out: 5x UART, 1x USB2.0 Host, 1x USB HSIC Host, 1x USB2.0 OTG, LCD(TFT/LVDS/MIPI), Gigabit Ethernet, I2S, CIF, HDMI, GPIO, ADC, PWM, I2C, Audio, SPI, HSMMC/SD, etc.
* Operating system: Android4.4.2
* Board size: 70mm x 58mm
* Compatible module: MINI6818
* Application: MID, multimedia advertising, intelligent control terminals, smart instrumentation, etc.
More information may be found at the MINI4418 product page