Boardcon announced an ARM based computer-on-module MINI210-III
Author: Boarcon Embedded Design   Date: 2015-10-05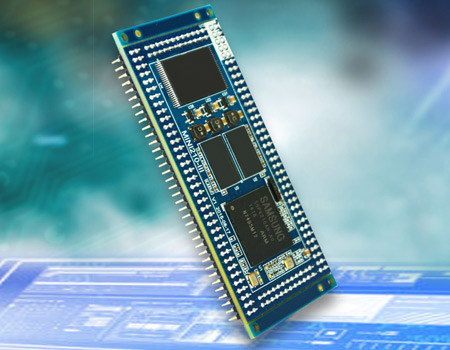 Boardcon announced an ARM based computer-on-module that runs Linux 3.0.8 on a Samsung Cortex-A8 S5PV210 SoC with built-in PowerVR SGX540 GPU.
The MINI210-III CoM is equipped with 256MB DDR2 RAM, 512MB or 1GB MLC Flash and aimed at low-power embedded applications.
MINI210-III Specifications:
* Processor: Samsung ARM Cortex-A8 S5PV210 @ 1GHz
* DDR: 256MB DDR2
* NAND Flash: 512MB/1GB optional
* Pin out: Ethernet, Camera, LCD, USB HOST&OTG, UART, GPIO, RTC, CVBS, JTAG, audio, watchdog, I2C, HS-ISP, SDIO, ADC, PWM, etc.
* Operating system: Linux3.0.8
* Board size: 37mm x 74mm
* Compatible module: MINI2416-III
More information may be found at the MINI210-III product page.