MINI210-III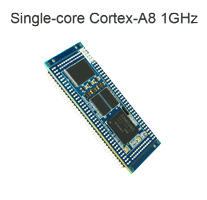 * Processor: Samsung ARM Cortex-A8 S5PV210 @ 1GHz
* RAM: 256MB DDR2
* Storageh: 256MB/512MB/1GB/2GB
* Pin out: Ethernet, Camera, LCD, USB HOST&OTG, UART, GPIO, RTC, CVBS, JTAG, audio, watchdog, I2C, HS-ISP, SDIO, ADC, PWM, etc.
* Operating system: Linux3.0.8
* Board size: 37mm x 74mm
* Compatible module: MINI2416-III, MINI2440
* Connectors: 2.0mm pitch, (2x12+2x36)pins Pin Header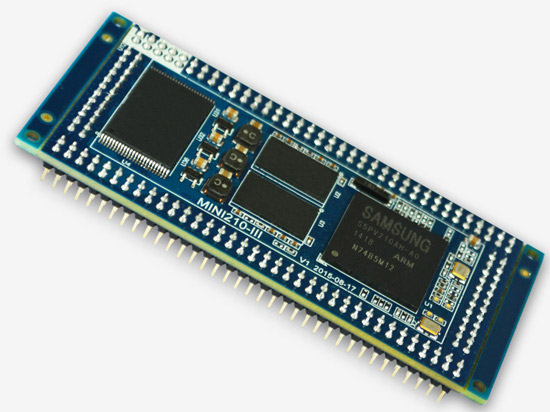 The MINI210-III is a pin-to-pin Computer on Module based on the Samsung S5PV210 CPU which implements the ARM® Cortex™-A8 architecture clocked at 1 GHz and paired with 256MB DDR2 RAM, 512MB or 1GB MLC Flash.
Several interfaces and connections such as Ethernet, USB, UART, Camera, and more make the MINI210-III a great fit for many embedded systems application.
Apart from the different processors, MINI210-III, MINI2440 and MINI2416-III share the same motherboard.