MINI2416-III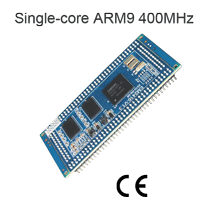 * Processor: Samsung ARM9 S3C2416X @400MHz
* RAM: 64/128MB DDR2
* Storage: 128MB/256MB/512MB/1GB optional
* Pin out: LCD, AD, SPI, UART, USB, SD, Ethernet, IIS, I2C, RTC, PWM, GPIO, etc.
* Operating system: Linux2.6.21, WinCE6.0
* Board size: 74mm x 37mm
* Compatible module: MINI2440, MINI210-III
* Connectors: 2.0mm pitch, (2x12+2x36)pins Pin Header
* RoHS Certification
* CE Certification, EMC Report
Boardcon MINI2416-III is a cost-effective arm9 based processor card which is based on Samsung S3C2416, it is designed specifically for business users who develop consumer electronics, industrial control, vehicle navigation, PDA and other electronic products.
The design of the MINI2416-III module offering high performance, lowest power consumption and a high degree of functional integration for entry level embedded applications. It is with a clock speed of 400MHz, contains 2D graphics acceleration video card which support common graphics acceleration function such as DirectDraw and GDI. The resolution of the video card is up to 1024*1024 pixels. Both MLC and SLC NAND Flash memory can be supported by MINI2416-III. Besides, MINI2416-III supports booting from SD, USB, OneNAND, NOR Flash and NAND Flash, to speed up the debugging and development for the upper application and low-level drivers greatly.
Rich peripherals such as USB, Ethernet, and integrated LCD controller make this module the ideal candidate for embedded applications requiring high performance and low power consumption. The on-board MMU supports major operating systems, including Linux and Embedded WinCE.