Android210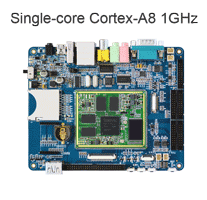 * Processor: Samsung ARM Cortex-A8 S5PV210AH @1GHz
* RAM: 512MB
* Storage: 256MB/512MB/1GB/2GB optional
* Interface: USB Host, USB OTG, 4x UARTs, RS485, HDMI, GPIO, LCD, Ethernet, Camera, WiFi, SD, Keyboard, Audio I/O, TV_OUT, I2C
* Operating system: Android4.0
* Board size: 145mm x 115mm
* Expansion Module: 3G model, GPS, WiFi, Bluetooth, Camera
Android210 is a Single Board Computer (SBC) based on a Samsung S5PV210AH-A0 at 1GHz ARM Cortex-A8 CPU. An internal 64-bit bus provides a standard set of high-end on-board peripherals. The Android210 features 512MB DDR2 and 512MB high-speed NAND flash. It is an ideal solution for applications requiring cost-effective, low power and high performance.
To reduce total system cost and enhance overall functionality, Android210 allows development of multi-function embedded applications through its multiple peripheral interfaces, which include 10/100 Ethernet port, USB Host2.0, USB OTG2.0, serial ports, SD card socket, general I/O lines, RTC, audio codec and speaker, touchscreen, and TFT24-bit true color LCD interface.
Android210 runs Android4.0 which uses an improved Linux 3.0 kernel (currently 3.0.8 version) that allows bootup from NAND flash and provides driver support for all on-board hardware in a short time.
Equipped with the high-end processor, rich peripheral interface and open-source code, Android210 is ideal for embedded applications such as MID, Netbook, Learning machine, AD player, IPC, PDA, GPS, Vehicle equipment, Visual telephone, MMT, HMI, Monitoring equipment, and Teaching laboratory equipment.