CM3566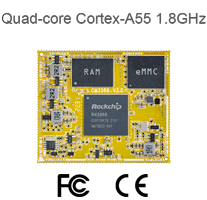 * Processor: Rockchip RK3566 Quad-core Cortex-A55, 1.8 GHz
* NPU: 1 TOPS
* RAM: 1/2/4/8GB
* Storage: 8/16/32/64/128GB
* Pin out: LVDS/MIPI DSI, eDP, MIPI CSI, I2S, HDMI, 2x USB2.0 Host, USB3.0, USB2.0 OTG, 2x SDMMC, I2C, SPI, 8x UART, 1x Debug serial port, PWM, ADC IN
* Operating system: Android 12, Debian 11, Buildroot
* Board size: 40 x 47mm
* Package: 186-pin, 0.9mm pitch


Certificate of conformity, Test Report


REACH.pdf


ROHS.pdf
Rockchip RK3566 is a mid-range SoC launched by Rockchip in 2020. It is an upgrade version of the classic RK3288.
The CM3566 is a System-on-Module (SoM) that excels in versatility and power. It is equipped with a 1.8GHz RK3566 Quad-core 64-bit Cortex-A55 processor, a mali-G52 2EE GPU, a high-performance VPU, and 1 TOPS NPU, supporting OpenGL, Vulkan, and 4K video decoding.
This RK3566 module is a powerhouse built for efficiency. One of its standout features is its wealth of expansion interfaces. From high-capacity storage options like PCIe2.1 and SATA3.0 to versatile ports including UART, I2C, and USB 3.0. Its unique 186-pin stamp-hole interface not only makes it easy for customers to use, but also makes your product low cost and fast to market.
The CM3566 adopts a hard high-temperature resistant TG170 PCB, and the core board flatness is controlled under 0.5%.
It has obtained certifications for CE and FCC, and passed the tests including Storage test, Operation Test, Continuous operation test, Vibration test and Drop test.
The CM3566 module has gained many enterprise customers due to its strong and stable performance, and is used in various fields like Sports equipment, Makeup mirror, Smart medical care POCT, e-books, Electronic organ and DJ equipment.
The SoM has been released into mass production.
Boardcon also provides the EM3566 development board and comprehensive documentation to quickly get started with the module and evaluate the solution.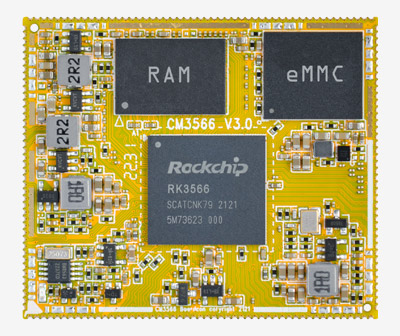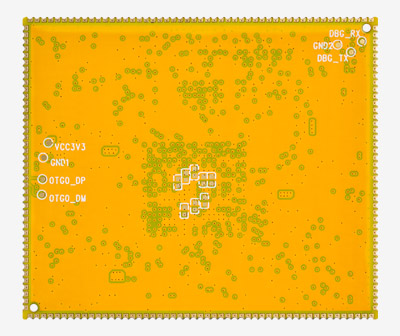 RK3566 VS RK3288

Processor
RK3566
RK3288
Lithography
22nm
28nm
CPU
Quad-core 64-bit Cortex-A55 @1.8GHz
Quad-core 32-bit Cortex-A17 @1.8GHz
GPU
ARM G52 2EE
ARM Mali-T764
AI accelerator (NPU)
1 TOPS
N/A
Memory
DDR3/DDR3L/DDR4 LPDDR3/LPDDR4/LPDDR4X
DDR3/DDR3L/LPDDR2
Storage
NOR flash, SPI NAND, eMMC 5.1, 8K OTP
MLC NAND Flash, eMMC 4.5, SD/MMC Interface (SD 3.0, MMC ver 4.5)
SATA
SATA 3.0
N/A
Display
Support eDP1.3, HDMI2.0, MIPI, LVDS, T-CON.
Dual-display support. Support eDP1.1, HDMI2.0, RGB, Dual LVDS, Dual MIPI
VPU
Video decode
4Kp60 H.264/H.265/VP9
4Kp60 HEVC;
4K2K@24fps: H.264, MPEG-2, VP6/VP8, MVC;
1080p: MPEG-4, Sorenson Spark, VC-1, RV8/RV9/RV10, and AVS;
720×576: H.263
Video encode
1080p60 H.264/H.265
1080p30: H.264, MVC, and VP8
Camera I/F
8M ISP with HDR
4-lane / 2x 2-lane MIPI CSI2 @ 2.5 Gbps per lane
16-bit DVP camera support with BT.656/601/1120
12-bit CCIR/Camera I/F up to 5MP
MIPI CSI2 I/F up to 14MP
8/10/12-bit raw data interface
Audio
8-channel I2S/TDM, 2x 2-channel I2S
8-channel PDM
S/PDIF out
PCM/I2S
S/PDIF
Networking
1x Gigabit Ethernet (GMAC)
1x GMAC (RMII/RGMII)
USB
2x USB 2.0 Host
1x USB 2.0 OTG
USB 3.0 Host
2x USB 2.0 Host
1x USB 2.0 OTG
HSIC
PCIe
PCIe 2.1 1x1 lane
N/A
Other I/Os
SDIO 3.0
10x UART, 4x SPI, 16x PWM, 6x I2C, 2x SARADC
3x SPI, 6x I2C, 5x UART, 4x PWM, 2x DMAC, 160 GPIO