MINI210S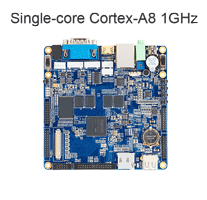 * Processor: Samsung ARM Cortex-A8 S5PV210AH @1GHz
* RAM: 512MB DDR2
* Storage: 1GB SLC NAND Flash
* Interfaces: 4x UART, USB2.0 Host, USB2.0 OTG, HDMI, LCD, Ethernet, Audio out, MIC, Keypad, Camera, SD, GPIO, JTAG, MIPI, SDIO WiFi, etc.
* Operating system: Android2.3/4.0, Linux+QT, WinCE6.0
* Board size: 110mm x 110mm
MINI210S is a tiny and affordable single board computer (SBC) that allows you to browse the internet, play games, watch videos, etc.
This SBC included a Samsung S5PV210 processor with 512MB RAM, 1 GB SLC NAND Flash. Additional storage can be added with a microSD card or a USB hard drive. The MINI210S can perform many of the tasks done by regular computers even though it is much smaller. With the compact design, fanless CPU, and low power consumption, for some applications it can be a substitute for the regular sized desktop PC.
Cortex-A8 1GHz CPU, various data communication (WiFi/ Bluetooth/ 3G/ Ethernet), optional operation system (Andrdoi/Linux/WinCE), multi-size LCD supported, with extra-large storage capacity and integrated with camera to satisfy multi-function in financial and industrial application and TMS terminal management.