CompactIMX6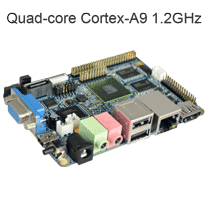 * Processor: Freescale i.MX6Q quad-core ARM® Cortex™-A9 CPU @1.2GHz
* RAM: 1GB/2GB optional
* Storage: 4GB/8GB(32GB extendable) eMMC
* Interface: 2x USB Host, 1x USB OTG, 1x UART(RS232), HDMI, VGA, Audio, SPK, Ethernet, LCD, LVDS, RTC, TF, SATA, Camera, Battery connector
* Operating system: Android6.0, Ubuntu 16.04, Linux4.1
* Board size: 100mm x 72mm
The design of the CompactIMX6 is based on Freescale's i.MX6Q CPU, which is paired with a GC2000 GPU, offering quad-core ARM Cortex™-A9 compute performance at very low power consumption and excellent graphics performance combined with a high degree of functional integration. The compact board incorporates up to 2GB DDR3 SDRAM and 8GB eMMC Flash memory as well as an extensive set of interface controllers. It provides comprehensive connectivity, including VGA, HDMI, LCD, dual LVDS, GPIO, USB HOST/OTG, Micro SD, Onboard SATA hard disk interface and so on, but size is only 100mm * 72mm.
CompactIMX6 supports multi-system operation, Android and Ubuntu have been achieved and released. The board is particularly well suited for Advertising Multimedia Terminal Equipment, HD Game Consoles, Navigation Equipment and other Handheld Devices.

Boardcon is a third party partner of Freescale, welcome to use Boardcon's Freescale products!