EM210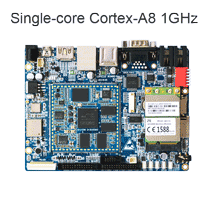 * Processor: Samsung ARM Cortex-A8 S5PV210AH @1GHz
* RAM: 512MB
* Storage: 256MB/512MB/1GB/2GB/4GB optional
* Interface: 2x USB host, 1x USB OTG, 1x RS232, 2x RJ11, HDMI, GPIO, LCD, Ethernet, Camera, 3G, 1x T-Flash card, 1x SIM card, JTAG, Keyboard, Audio
* Operating system: Linux3.0.8, WinCE6.0, Android4.0.3
* Board size: 108mm x 141mm
* Expansion Module: 3G model, GPS, WiFi, Camera, LCD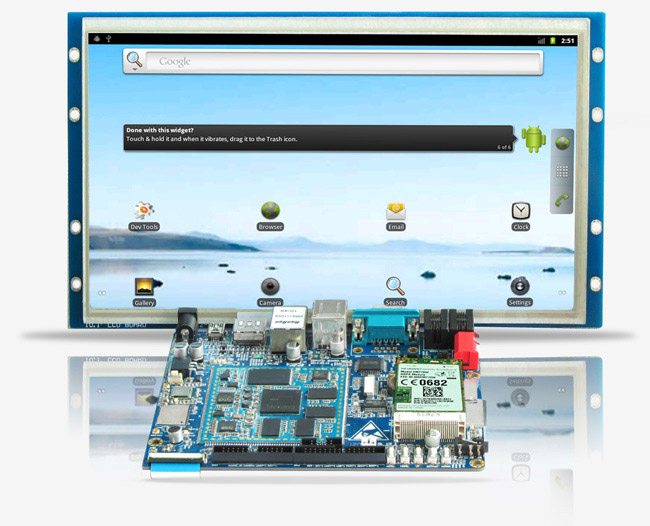 The Boardcon EM210 integrates a high-performance, low-power 1GHz Samsung ARM Cortex-A8 S5PV210AH with Samsung K4T1G164QF chipsets and Samsung KLM4GIFE3B, delivering best performance-per-watt for communication, healthcare, automation, transportation, multimedia advertising, high performance POS machine, and surveillance applications.
The compact EM210 offers a rich set of peripherals and interfaces including Ethernet, USB Host &OTG, Camera, HDMI, Serial ports, Audio, LCD, Keypad, T-Flash, Buttons and etc. It brings a flexible array of communications options including Wi-Fi, WCDMA and RFID. A SIM card slot is also included. Supporting Linux 3.0.8, WinCE6.0 and Android 4.0.3, the EM210 can deliver a variety of features and APIs that allow developers to highly customize their system designs in the low-profile and fully-configured embedded devices.
The single board computer has complete electronic documentation, schematics, demo applications, and third party industry-standard C compilers and embedded development environments for evaluation. We are sure to have the right single board computer for your applications.