Idea3588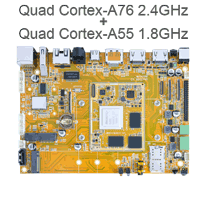 * Processor: Rockchip RK3588 octa-core processor, 4x Cortex-A76 cores @ 2.4GHz, 4x Cortex-A55 cores @ 1.8 GHz
* NPU: 6 TOPS
* RAM: 8GB LPDDR4X
* Storage: 32GB
* Interfaces: 4x USB2.0 Host, 1x USB3.0 Host, 1x USB3.1 Type-C, 2x UART, RS485, CAN, Ethernet, HDMI OUT, HDMI IN, DisplayPort, MIPI CSI, MIPI DSI, PCIe2.0, PCIe3.0, SATA3.0, SD+SIM, Audio I/O, RTC, etc.
* Operating system: Android 12, Debian 11, buildroot
* Board size: 165mm x 120mm
* Expansion Module: 4G model, WiFi, Camera, 10.1-inch LCD
Idea3588 is a octa-core single board computer powered by Rockchip RK3588 processor and designed to IPC, high-end tablet, 8K TV, AR/VR, personal mobile Internet equipment and other AIoT devices.
The RK3588 is Rockchip's new generation flagship application processor with quad-core Cortex-A76 and quad-core Cortex-A55 alongside a NEON co-processor, quad-cluster Arm Mali 'Odin' GPU, 6 TOPS NPU accelerator, and an advanced multimedia engine supporting 8Kp30 video encoding as well as 8Kp60 video decoding. The 8nm adopted by RK3588, increase the performance of the previous generation by 20%~30%, while the power consumption can be reduced by 40%.
Idea3588 SBC is comprised of a CM3588 module with 8GB (up to 16GB) RAM and 32GB (up to 128GB) eMMC flash and carrier board, supports NVMe storage, offers DisplayPort and HDMI, and MIPI DSI/eDP video interface, MIPI CSI for 4K camera module, Gigabit Ethernet, USB 3.1 Type-C, HDMI in, WiFi, Bluetooth 5.2, as well as optional 4G cellular connectivity, and PCIe slots.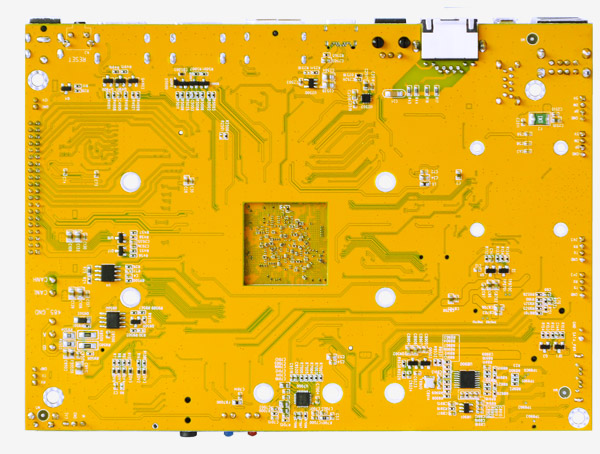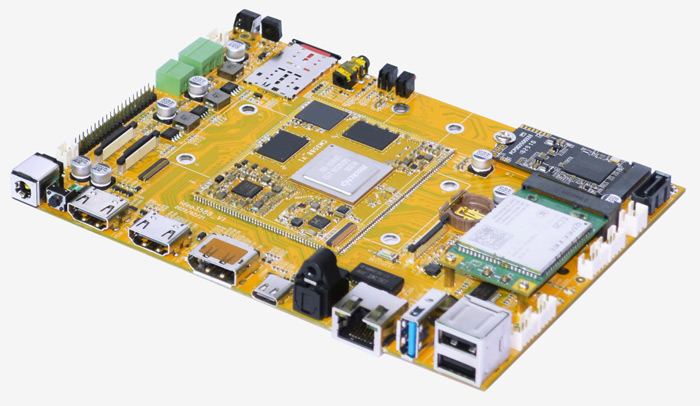 RK3588 VS RK3588S
Processor
RK3588
RK3588S
Lithography
8 nm
8 nm
ISA
ARMv8-A (64-bit)
ARMv8-A (64-bit)
CPU
4x Cortex-A76 @ 2.4GHz
4x Cortex-A55 @ 1.8GHz
4x Cortex-A76 @ 2.4GHz
4x Cortex-A55 @ 1.8GHz
GPU
ARM Mali-G610 MP4
ARM Mali-G610 MP4
AI accelerator (NPU)
6 TOPS
6 TOPS
Memory types
LPDDR4, LPDDR4X, LPDDR5
LPDDR4, LPDDR4X, LPDDR5
Storage
eMMC 5.1
eMMC 5.1
Support FSPI Flash
Support FSPI Flash
Micro SD Card 3.0
Micro SD Card 3.0
USB
1x USB3.0 (shared with PCIe2.1/SATA3)
1x USB3.0 (shared with PCIe2.1/SATA3)
2x USB2.0 Host
2x USB2.0 Host
2x USB3.1/2.0 OTG (Two full function Type C)
1x USB3.1/2.0 OTG (One full function Type C)
Display
Type-C/DP1.4 shared, 2x 4-lane DP1.4
Type-C/DP1.4 shared, 1x 4-lane DP1.4
2x HDMI2.1 TX/eDP1.3
1x HDMI2.1 TX /eDP1.3
2x 4-lane MIPI DPHY TX/CPHY TX
2x 4-lane MIPI DPHY TX/CPHY TX
Camera/Video input
2x 4-lane MIPI CSI or 4x 2-lane MIPI CSI
1x 4-lane MIPI CSI or 2x 2-lane MIPI CSI
2x MIPI CPHY RX/MIPI DPHY RX
2x MIPI CPHY RX/MIPI DPHY RX
HDMI RX
1x 4-lane HDMI RX
N/A
PCIe3.0
1x 4-lane or 2x 2-lane PCIe3.0
N/A
PCIe2.1/SATA3.0
3x 1-lane PCIe2.1
2x 1-lane PCIe2.1
3x SATA3.0
2x SATA3.0
ADC
8x SARADC
6x SARADC
SDIO
1x SDIO3.0
1x SDIO3.0
GMAC
2x (GMAC0+GMAC1)
1x (GMAC1)
I2C
9x I2C
9x I2C
PWM
16x PWM
16x PWM
UART
10x UART
10x UART
SPI
6x SPI
6x SPI
I2S
4x 12S
4x 12S
PDM
2x PDM
2x PDM
CIF
1x CIF
1x CIF
SPDIF
2x SPDIF(8ch)
2x SPDIF(8ch)
Package
23 x 23mm, 0.65pitch
17 x 17mm, 0.4pitch