EMH6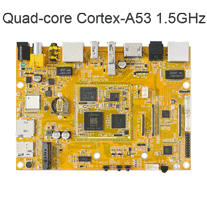 * Processor: Allwinner H6 Quad-core 64-bit ARM Cortex A53
* RAM: 1GB LPDDR3
* Storage: 8GB
* Interfaces: 2x Ethernet, UART(Debug), CVBS-OUT, SPDIF-OUT, USB Host, USB OTG, HDMI, PCI-E, LCD (RGB, EDP), Camera, GPIO, Audio I/O, SD, SIM, etc.
* Operating system: Android7.0
* Board size: 140mm x 100mm
* Expansion Module: 4G model, WiFi, Camera
The Boardcon EMH6 Embedded SBC is equipped with Allwinner H6 quad-core processor, 1GB LPDDR3 and 8GB storage.
The H6 is a high-performance 4K HDR set-top box SoC. It uses quad ARM A53 core CPU architecture, with MaliT720 GPU, support for H.265 6K @ 30fps video decoding, H.264 4K @ 30fps video encoding Allwinner HDR display technology combined with Smartcolor 3.0 intelligent display engine. This enables enhanced and intelligent noise reduction, improved interlacing, intelligent color enhancement, the result of which is a powerful and rich display experience.
The development platform offers the ability to communicate with several different networks from a single device. Using the onboard peripherals, the system can connect to Ethernet, WiFi, Bluetooth, GPS, and 4G networks or devices. In addition, high speed interfaces like USB 3.0 and PCIe are also included. Additional storage is possible through the microSD or M.2 socket.
Typical applications for EMH6 includes 4K Set-Top Box (STB), Game Console, and Facial Recognition.