CM9X35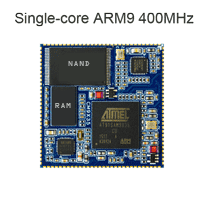 * Processor: Atmel AT91SAM9X35 @ 400 MHz
* RAM: 64/128MB DDR2
* Storage: 256MB/512MB/1GB
* Pin out: LCD&Touchscreen, Ethernet, CAN, USB OTG&HOST, Audio I/O, SmartDAA, SD card, UART, etc.
* Operating system: Linux2.6.39
* Board size: 40mm x 40mm
* Compatible module: MINI2416, MINI287
* Package: 120-pin, 1.27mm pitch
CM9X35 is an ARM9 based Computer-on-Module (CoM) designed by Boardcon, integrated with multi-functional embedded hardware based on Atmel's AT91SAM9X35 industrial processor.
The module is featuring a rich set of connectivity and user interface peripherals, including Ethernet MAC and CAN. The graphics LCD controller features 4-layer overlay and 2D acceleration and a 10-bit ADC that supports 4-wire resistive touchscreen panels. Additional interfaces include a soft modem supporting exclusively the Conexant SmartDAA line driver, High Speed USB OTG and Host, Full Speed USB Host, HS SDCard/SDIO/MMC interfaces, UARTs, SPIs, I2S and TWIs.
CM9X35 is ideally suited for a variety of embedded control HMI (human machine interface) applications including industrial control terminals, intelligent instruments, medical products, network terminals as well as data acquisition and analysis.

Boardcon is a confirmed third party partner of Atmel, welcome to use Boardcon's Atmel products!