Handheld POS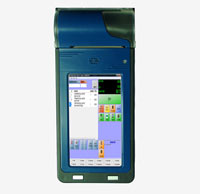 * Processor: Samsung ARM9 S3C2416 @400MHz
* RAM: 128MB
* Storage: 256MB/512MB/1GB optional
* Interface: 3x serial ports(for GPS, GPRS/CDMA, Debug), Audio, Microphone, LCD, SPK, Printer, Micro SD, SIM, Battery connector
* Operating system: Linux2.6.21, WinCE6.0
* Board size: 190 x 84 x 42mm
EM2416 hand-held POS is based on Samsung ARM9 S3C2416 microprocessor which is optimized for embedded and mobile applications, featuring a 16/32-bit ARM926EJ-S core, on-chip peripherals that include a 2D graphics accelerator and low voltage supported by Samsung's 65nm low-power technology.
The fully integrated POS includes a host of built-in features such as touchscreen and thermal printer, also GPRS/CDMA, GPS and WIFI module are available according to the customer demands.
The POS is available for either Linux or Windows operating system.